Public Radio's Environmental News Magazine (follow us on Google News)
A Tasty Vegan Thanksgiving
Air Date: Week of November 16, 2018

stream/download this segment as an MP3 file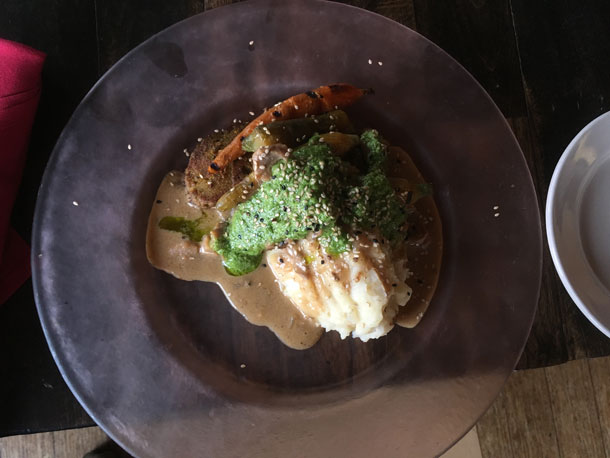 Chimichurri seitan, Red Lentil's vegan answer to steak and mashed potatoes. (Photo: Bobby Bascomb)
Vegan fare may be healthier for the planet and people than foods based on animal products, but most Americans do prefer a plump turkey on the center stage for Thanksgiving, with buttery mashed potatoes, gravy and pumpkin pie singing backup. Yet among the vegan options there are plenty of tasty selections that even have the mouth feel of meat. Host Bobby Bascomb tasted a sneak preview of a planned 5-course vegan Harvest feast on Thanksgiving Day at a restaurant in Watertown, Massachusetts.
Transcript
BASCOMB: As consumers one of the best things we can do to shrink our environmental footprint is eat lower on the food chain. Not eating animal products sharply reduces personal carbon footprints and has a number of health benefits, including lowering the risk of certain cancers, diabetes and heart disease. But it's nearly Thanksgiving and for most Americans that means just one thing: turkey, along with the usual sides of mashed potatoes and gravy, stuffing, and pumpkin pie. Vegans, though, have different choices for the Thanksgiving feast. So, for the last 10 years Pankaj Pradhan, chef and owner of the Red Lentil restaurant in Watertown, Massachusetts has been preparing a vegan Thanksgiving dinner for his customers. I went to Red Lentil to get a sneak peek at the menu and some advice for vegans at Thanksgiving.
[KITCHEN SOUNDS]
BASCOMB: Pankaj is originally from India, where cows are sacred and has been a lifelong vegetarian. He moved to Boston in 2000 and eventually opened a vegan restaurant. Today Pankaj walks up and down his long narrow kitchen collecting the ingredients he'll need to make a couple sample vegan dishes.
PRADHAN: Ok…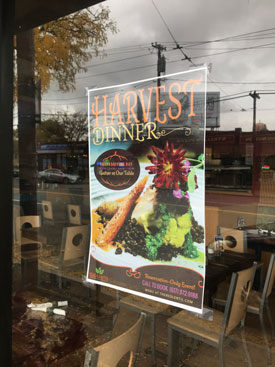 BASCOMB: From knee-high refrigerators he pulls out a bright green sauce and a container holding something that looks a bit like steak.
PRADHAN: We'll be making two dishes -- one is Chimichurri Seitan, and the other one is Oyster Mushroom Calamari.
[KITCHEN SOUNDS]
BASCOMB: Okay. All right. Let's get started.
PRADHAN: So this is the Chimichurri Seitan. Seitan is a protein substitute in vegan food. Seitan is made out of like high gluten wheat flour. And here, this is our mushroom gravy, we make it our own. It reminds me of having steak and mashed potatoes with brown gravy.
BASCOMB: So Thanksgiving is just around the corner now. Is this something that you think would substitute for turkey and mashed potatoes? Would that, would that do the job?
PRADHAN: Yes. Especially for the Harvest, you know, which is Thanksgiving dinner, I try not to use too much of processed meat substitute like seitan, tofu or tempeh. So what I do instead is I take produces or vegetables which has a more meaty textures like mushrooms, lentils. So what do we do is we use, like, big lobster mushroom, it gives very close texture to you having a meat. Same thing with the legumes. If you add the legumes with any kind of nuts to it, you feel like you are having the same texture if you are a big meat eater.
[SIZZLING SOUND, SPATULA SCRAPING]
PRADHAN: So once it's nicely coated and pan-seared on one end, we just flip it, sprinkle a little bit more oil and then at the same time we'll take the mashed potatoes…you normally put cream, butter, all kinds of good things in your Thanksgiving mashed potatoes. What we do, as a vegan, we find these replicates of butter, which is soy margarine. It exactly does what butter does. Same thing with milk, like instead of cream, we have coconut cream, we have almond cream. We have cashew cream.
[SIZZLING SOUNDS]
PRADHAN: It's almost ready. The Chimichurri Seitan. So we take a dinner plate -- first what we do is put the mashed potatoes and then once you see that the seitan -- that they are nicely pan seared you just lay it off next to the mashed potatoes and then we'll warm up some mushroom gravy.
[SOME SIZZLING SOUNDS, SCRAPING]
PRADHAN: As you can see there are mushrooms, chunks of mushroom here from the mushroom gravy. And the best part of making good gravy in the vegan world is nutritional yeast. It's a big secret I'm sharing with you.
BASCOMB: What is nutritional yeast, what exactly is that?
PRADHAN: It has a very powdery, cheesy texture. So anything which is not very flavorful, if you put the nutritional yeast to it, it gives a little cheesy taste to it.
[SCRAPING SOUNDS]
PRADHAN: Alright. So once you see that it's nice and hot, we're going to just pour the gravy on top of the mashed potato, in between the mashed potatoes and the seitan, Chimichurri seitan. And the last component, which goes on top of it is the Chimichurri sauce, which is made out of green herbs like parsley, scallions, and uh, sometime we use cilantro with little bit of olive oil and garlic.
PRADHAN: The other thing which we will make will be the oyster mushroom calamari. This is the mushroom. It's already been breaded with gluten free breadcrumbs. And if you look at the mushroom, the way we took it apart, it'll remind you of like a squid.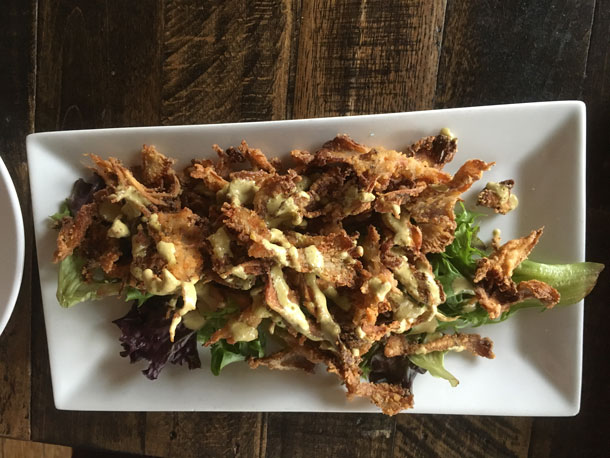 BASCOMB: So they're in like long strips, sort of like Calamari.
PRADHAN: Exactly. So before we fry it we make sure that the oil is nice and hot...
[SIZZLING OIL]
PRADHAN: Gently drop it on the hot oil and be sure not to burn yourself.
BASCOMB: So November first was World Vegan Day. Do you think that that's a good time to have a, you know, like a Vegan Day, the same month as Thanksgiving and what do you think of that idea in general?
PRADHAN: Yeah the whole reason behind it is this is the time things are done like harvest wise. Harvest is done from the field. I think personally that's the concept behind calling harvest dinner or Thanksgiving dinner.
BASCOMB: Yeah. I mean, that makes sense actually because I mean the harvest has nothing to do with animals or animal products. The harvest is about produce and squash and whatever's in season right now...
PRADHAN: Yes, like what do you grow from where you are? It depends. Obviously in New England you cannot grow too many things in November! [LAUGHS]
All right, so your oyster mushroom is ready. So what we'll do is put some kind of mixed greens on the plate, and then you basically lay it off like a bed on top of the greens and then we made a caper aioli sauce, which we drizzle it on top of the calamari. And voila, there you go.
BASCOMB: It looks very much like calamari. It looks delicious actually.
PRADHAN: Well I think you should first try it and then give me your opinion. [LAUGHS]
BASCOMB: Oh, I will! You don't have to ask me twice. I will definitely try one. Will you join me?
PRADHAN: Oh, I already ate, but I might grab a piece.
[SILVERWARE CLINKING]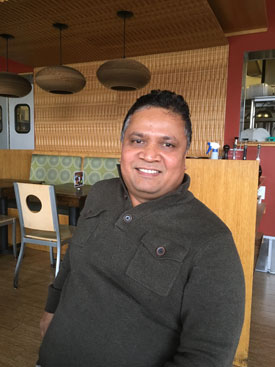 BASCOMB: All right… I think people think vegan food is, you're eating like a rabbit, you know, all you eat is salad. But this, this is the opposite of that. This looks delicious and, and really filling, you know.
PRADHAN: So does that change your opinion about vegan Thanksgiving dinner now?
[LAUGHS]
BASCOMB: Well, I mean, you know, I'm on board, I'm on board. I do like mashed potatoes and gravy and turkey and all that. But uh, you know, I'm open minded for sure.
PRADHAN: So that's a good start for now. [LAUGHS]
BASCOMB: But, um... I'm going to have a bite. ... Mmm. It's really good. The seitan is actually really meaty, like it's chewy.
PRADHAN: Yes, meat substitute, yes.
BASCOMB: Like tofu is more mushy than this, you know.
PRADHAN: Yes it is. And very delicate to cook, tofu.
BASCOMB: I mean it's a lot more nuanced. I mean let's be real. Thanksgiving dinner is delicious, but it's gravy, it's very heavy, it's very butter… and this has a lot of nuance.
PRADHAN: Well, the good thing about you being a vegan is, you got to try all the spices. You are not very limited just to steak sauce.
BASCOMB: It seems like being vegetarian or specifically being vegan, it forces you to be more creative.
PRADHAN: Yes, it does.
BASCOMB: So let's try the calamari now too… [CHEWS] It's really good! It's chewy, not nearly as chewy as calamari, but I think that's a good thing. [LAUGHS]
PRADHAN: You have to have a perfect timing to fry the calamari. When you over fry it, it gets rubbery, chewy. Same thing with the mushrooms.
BASCOMB: Um, and so we have this delicious dinner, but I mean Thanksgiving typically ends with pie, a lot of pie – pumpkin pie, apple pie, which is of course made with butter in the crust and the pumpkin pie is made with eggs and milk, condensed milk. What do you do for dessert here?
PRADHAN: We have substitute for everything. We have all kind of binding agents which are taken out from the trees, taken out from the flowers, taken out from the greens. So we don't have to use eggs anymore. I'll give you my secret for this year. I'm making a, since it's Thanksgiving, you have to have something with pumpkin. So I'm making a chocolate pumpkin mousse cake. And the other one which I am doing will be the upside down apple tart, you have to have a tart on Thanksgiving.
BASCOMB: Well it sounds great. I kind of makes me wish I was coming here for dinner. [LAUGHS]
PRADHAN: Hey, you always welcome to come here anytime.
BASCOMB: Well thank you so much for showing me around and giving me some ideas for a vegan Thanksgiving.
PRADHAN: You are welcome.
BASCOMB: On a personal note, I have eaten red meat three times in the last 25 years and I've gone through brief phases of vegetarianism, but a vegan diet has always seemed so difficult and limiting. But maybe not. I think if I could eat Pankaj's food every day I would do just fine as a vegan, especially if it involves that chocolate pumpkin mousse cake. Pankaj has kindly shared two of his vegan recipes with us. To check them out go to our website, loe.org.
Living on Earth wants to hear from you!
P.O. Box 990007
Prudential Station
Boston, MA, USA 02199
Telephone: 1-617-287-4121
E-mail: comments@loe.org
Donate to Living on Earth!
Living on Earth is an independent media program and relies entirely on contributions from listeners and institutions supporting public service. Please donate now to preserve an independent environmental voice.
NewsletterLiving on Earth offers a weekly delivery of the show's rundown to your mailbox. Sign up for our newsletter today!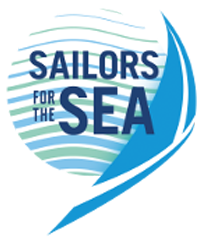 Sailors For The Sea: Be the change you want to sea.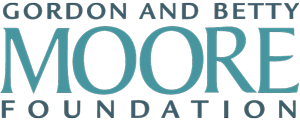 Creating positive outcomes for future generations.

Innovating to make the world a better, more sustainable place to live. Listen to the race to 9 billion

The Grantham Foundation for the Protection of the Environment: Committed to protecting and improving the health of the global environment.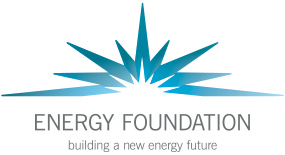 Energy Foundation: Serving the public interest by helping to build a strong, clean energy economy.
Contribute to Living on Earth and receive, as our gift to you, an archival print of one of Mark Seth Lender's extraordinary wildlife photographs. Follow the link to see Mark's current collection of photographs.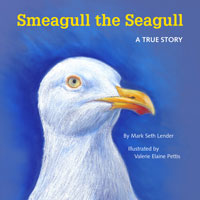 Buy a signed copy of Mark Seth Lender's book Smeagull the Seagull & support Living on Earth